Advantco MQTT adapter for SAP PI/PO
MQTT (MQ Telemetry Transport) is a publish/subscribe, extremely simple and lightweight messaging protocol, designed for constrained devices and low-bandwidth, high-latency or unreliable networks. Using MQTT brokers to buffer the data from hundreds of users or devices would allow PI/PO to process these data in a more control manner.
Advantco MQTT adapter for SAP PI/PO enable you to publish data to any MQTT broker and to subscribe to any MQTT topics. As a MQTT client, the Advantco MQTT adapter will initiate the connection to the MQTT broker, this eases the network configuration. TLS support guarantees that your data are well protected when sending or receiving data from the MQTT brokers.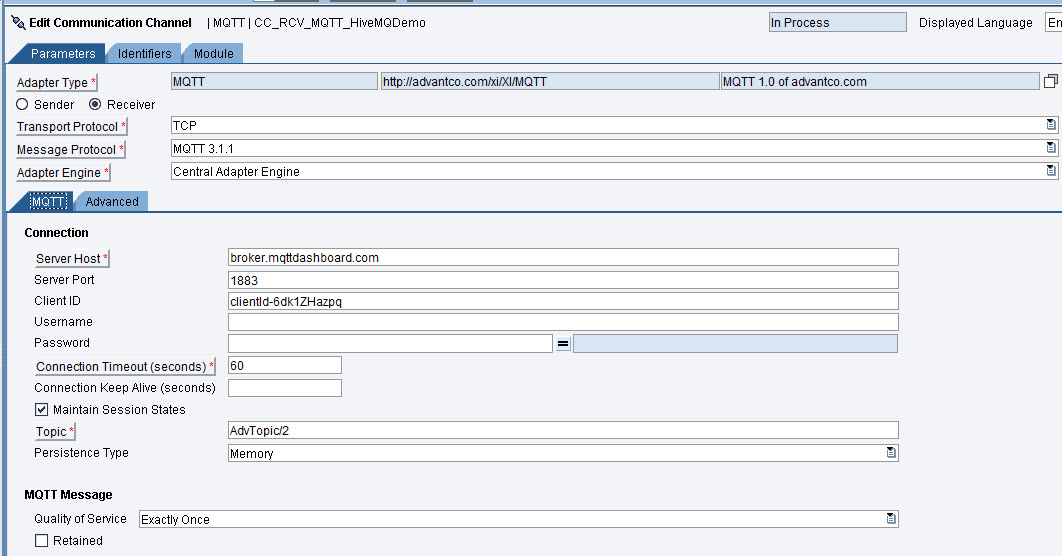 A native JSON conversion engine is a standard feature of the MQTT adapter.

Key Features
Full integration with SAP PI Adapter Framework, Alert Framework and Monitoring.
Supports publish and subscribe operations to MQTT database.
Support MQTT v3.1 and MQTT v3.1.1 protocol versions.
Support MQTT and MQTTS.
Support TLS 1.1 and TLS 1.2 for SAP PI/PO 7.1, 7.3 and 7.4
Supports both Synchronous and Asynchronous mode of communication.
Support various content conversion including XML / JSON / Flat (CSV) data.
Available for SAP PI 7.1, 7.1 EHP1, 7.3, 7.3 EHP 1, 7.4.
Key Benefits:
Minimal effort to install, configure and usage of the MQTT adapter.
Maintain and support by team with profound knowledge of SAP PI/PO adapter developments.
List of MQTT brokers have been tested with the Advantco MQTT adapter:
For more information about the Advantco MQTT adapter, please visit: https://www.advantco.com/products
Please reach out to our sales team at sales@advantco.com if you have any questions.