Advantco MQTT adapter for SAP PI/PO, SAP Cloud Integration
Introduction
MQTT (MQ Telemetry Transport) is an OASIS standard messaging protocol for the Internet of Things (IoT). It is designed as an extremely lightweight publish/subscribe messaging transport that is ideal for connecting remote devices with a small code footprint and minimal network bandwidth, high-latency or unreliable networks. MQTT today is used in a wide variety of industries, such as automotive, manufacturing, telecommunications, oil and gas, etc. Using MQTT brokers to buffer the data from hundreds of users or devices would allow PI/PO to process the data in a more controlled manner.
Advantco MQTT adapter for SAP PI/PO enables you to publish data to any MQTT broker and to subscribe to any MQTT topics. As a MQTT client, the Advantco MQTT adapter will initiate the connection to the MQTT broker, this eases the network configuration. TLS support guarantees that your data are encrypted when sending or receiving data from the MQTT brokers.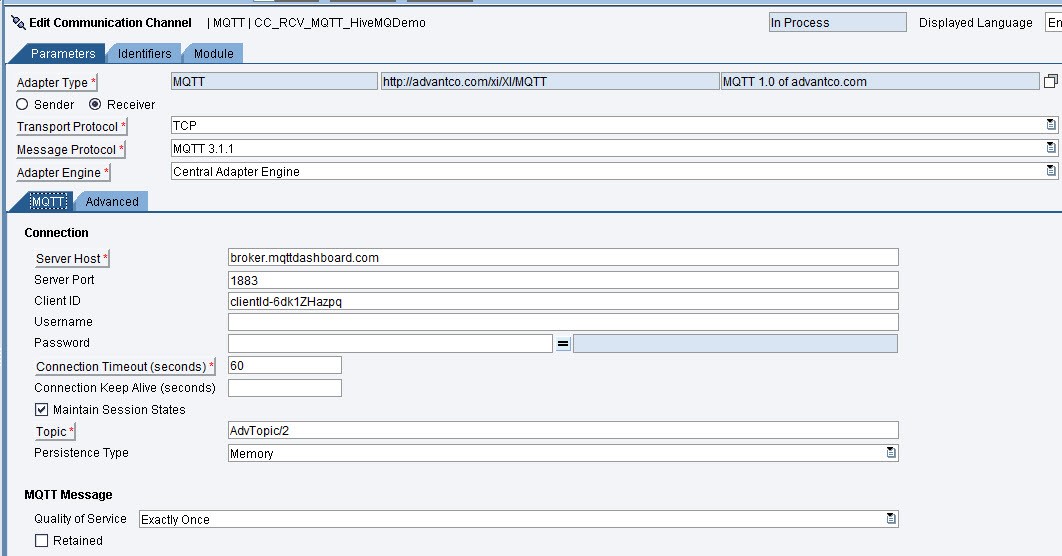 A native JSON conversion engine is a standard feature of the MQTT adapter.

Key Features
Full integration with SAP PI Adapter Framework, Alert Framework and Monitoring.

Built-in web tool (workbench) where users can create connection configuration, test connection, consume/publish message to topic, reuse the configuration in adapter channel configuration.

Supports publish and subscribe operations to MQTT database.

Support MQTT v3.1 and MQTT v3.1.1 protocol versions.

Support MQTT and MQTTS.

Support TLS Client Authentication

Support Protocol Buffer data format

Support various content conversion including XML / JSON / Flat (CSV) data.

Available for SAP PI/PO, SAP Cloud Integration
Key Benefits:
Minimal effort to install, configure and usage of the MQTT adapter.

Maintain and support by team with profound knowledge of SAP PI/PO adapter developments.
List of MQTT brokers have been tested with the Advantco MQTT adapter:
For more information about the Advantco MQTT adapter, please visit: https://www.advantco.com